Blackfriars Alumni Event 2016 – a joyful gathering
18th September 2016
Blackfriars alumni and their guests assembled on Saturday 17 September for a very enjoyable dinner in the Refectory of the priory. Most of the Oxford-based friars joined our guests, and included the present and two former Regents of Blackfriars Hall (the latter being Frs Richard Finn and Simon Tugwell, both newly returned to Oxford).
We were especially delighted at a good turn-out of our American friends, including former students of the Visiting Students Programme (one was here in the mid-1980s, before we were even created as a Permanent Private Hall of the University!) Several had even come from as far afield as California, demonstrating well the theme of the after-dinner speech given by Fr Timothy Radcliffe OP, about the sense of belonging and home that are evoked by our 'alma mater'.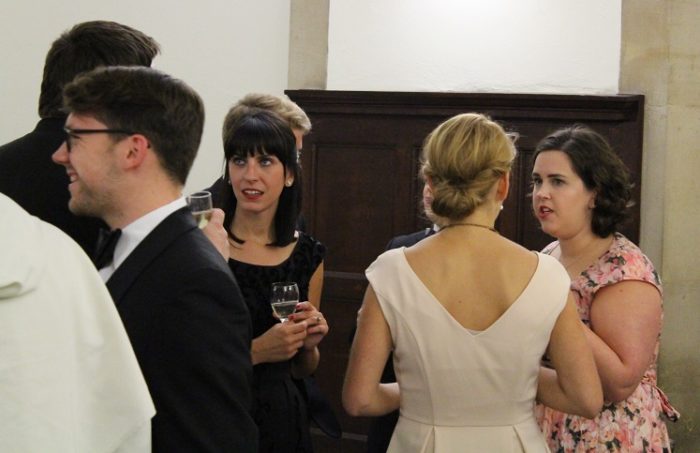 It was especially gratifying to see recent alumni already keen to maintain the bonds of friendship formed during their time with us, and we hope we can help support these through the continuing work of the Blackfriars Alumni Association.
We invite you all, then, to tell us how you would like to see the Association develop. Whether you are willing to host any get-togethers, or simply want to share an idea, do get in touch with us. You can email richard.brown@bfriars.ox.ac.uk and/or leave a comment below.

Talk by the Former Regent, Fr Richard Finn OP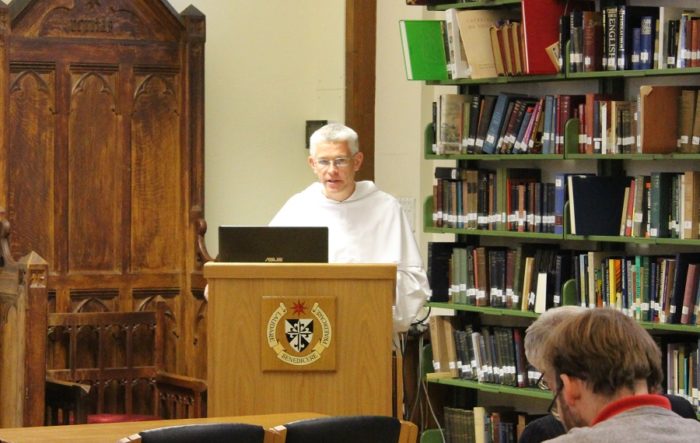 Alumni of Blackfriars and other colleges joined us in the afternoon for a fascinating lecture by Fr Richard Finn OP marking the 800th anniversary of the founding of the Order of Preachers. Summarising the varied history and disparate figures of 800 years was a considerable challenge, to which Fr Finn responded by selecting four lesser-known figures from different periods, who made distinct contributions not just to the Order but to the wider world.
John Bromyard was an English friar and prolific compiler of preaching aids, including the Summa Predicantium. He was a pioneer of indexing and cross-referencing, essential tools now in our 'Information Age'.
Fra' Bartolommeo, while less famous than Fra' Angelico, made a considerable and arguably original contribution to religious art, which he interpreted under the influence of another Dominican, the fiery reformer Girolamo Savonarola.
Bartolomé de Las Casas was the great champion of the human rights of indigenous persons in the Americas and an early developer of the concept of subjective human rights. His name lives on in the Las Casas Institute for Social Justice at Blackfriars Hall.
Finally, Dominique Pire was a 20th-century Dominican who won the Nobel Peace Prize for his work with refugees, and was deeply involved in practical and theoretical work for development and peace.
After-Dinner Speech by Fr Timothy Radcliffe OP, former Master of the Order
Fr Timothy offered an amusing and entertaining talk, in which he spoke of the Alma Mater – meaning 'nourishing mother' and alumni as the ones who have been nourished. He reflected on the idea that Blackfriars is a 'home' for our alumni, one of the 'countries of the mind' that we inhabit, using the phrase of Seamus Heaney. He further considered the importance of how we use our God-given reason on our journey of faith, and the necessity of engaging with those who hold differing opinions, that we both might grow in understanding. In conclusion he argued that Blackfriars is a place where we can grow in the moral life, by 'learning to be virtuous, to become strong and free through the grace of God.'
We intend this dinner to become an annual event, so to those who were unable to attend this year, we extend a warm invitation to join us next year. Details will be announced in due course.