The Humane Philosophy Project at Blackfriars Hall, Oxford
25th July 2016
Dr Mikolaj Slawkowski-Rode tells us of an important new initiative which he co-founded.
Main image: Ralph Weir and Mikolaj Slawkowski-Rode, HPP founders.
The Humane Philosophy Project (HPP) is an international initiative which aims to revitalise the connection between contemporary philosophy, the arts and humanities, and our wider intellectual and cultural heritage. It was founded by Ralph Weir and myself when we were both students at Blackfriars, as an academic cooperation between Blackfriars Hall, the Ian Ramsey Centre for Science and Religion, Oxford, and the Institute of Philosophy at Warsaw University, Poland.
Our Inspirations
We were inspired by a Blackfriars seminar given by Roger Scruton, which ranged across many big and demanding questions without sacrificing rigour or depth. This contrasted greatly with the extremely specialised and technical approach to philosophy that dominates the field, and reinforced our conviction that academic philosophy urgently needs to return to a more direct engagement with concerns of a wider humanistic relevance. We discovered that there are many other scholars who take seriously philosophy's wider relevance to humanity. Among them is John Cottingham, from whose essay 'What is Humane Philosophy, and Why is it at Risk?' the Project takes its name. The way forward seemed clear: to bring those already engaged in humane philosophy into a discussion which would take up the neglected questions we felt were in need of addressing.
Events
Since its inauguration in 2013 HPP has already held 11 international conferences and day colloquia in Oxford and Warsaw hosting over 70 speakers including Professor Hubert Dreyfus, Templeton Laureate Professor Michael Heller, Sir Anthony Kenny, Sir Roger Penrose, Sculptor in Ordinary to the Queen Professor Alexander Stoddart, Professor Alister McGrath, Dr Mary Midgley, Stewart, Lord Sutherland, and of course both Roger Scruton and John Cottingham.
We have organised 16 filmed seminars in Oxford, building an online library of lectures by some of the most widely recognised scholars in the field, with our most popular videos receiving YouTube views in the tens of thousands (in 2015 we also transmitted live to an audience in Warsaw)
We have also run several accredited seminar series at the Institute of Philosophy in Warsaw; established an interdisciplinary pro-seminar for Arts and Humanities Research Council (AHRC) doctoral students at Cambridge University; and extended the collaboration to include Ruhr University Bochum, the Faculty of Philosophy at Zagreb University, and the Croatian Dominican Province.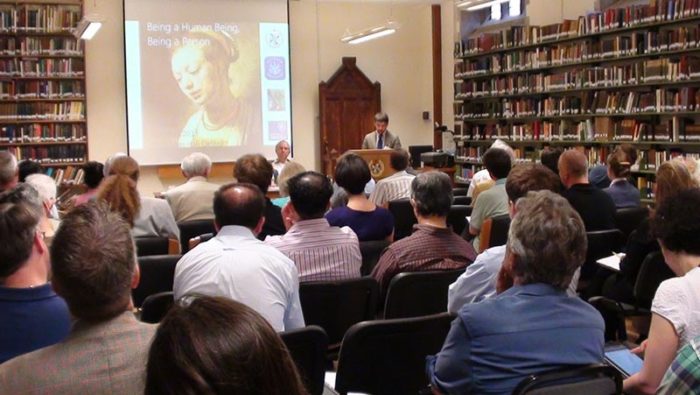 Mikolaj Slawkowski-Rode addressing the HPP conference, in the Aula at Blackfriars Hall, Oxford.
All the work involved in running the Project has been carried out by a small group of volunteers, solely for the inspiration to our own research and the intellectual fun along the way. Throughout our activities Blackfriars Hall has been exceptionally supportive, making its facilities available for many of our events, helping in publicising them, and, most importantly, setting up a restricted fund, allowing us to receive financial contributions from external institutions such as the Warsaw University Vice Chancellor's Research Fund, the AHRC, and the German Research Foundation's Emmy Noether Group, as well as from private individuals interested in supporting the Project.
As we enter into the final year of the original cooperation, our planned events already include a week-long summer school in Croatia aimed at Dominican novices, three international conferences, and a further year of the Oxford and Cambridge seminars. We hope however that the adventure will not end there. The success of the Project to date has made both the demand and the wider need for humane philosophy more apparent. We are hopeful that we will be successful in soliciting further support to continue the work HPP is doing and to fund prospective publications.
We are extremely grateful for the continued support and encouragement from Blackfriars Hall which made all this possible.
Further information including contact details can be found at the HPP website.