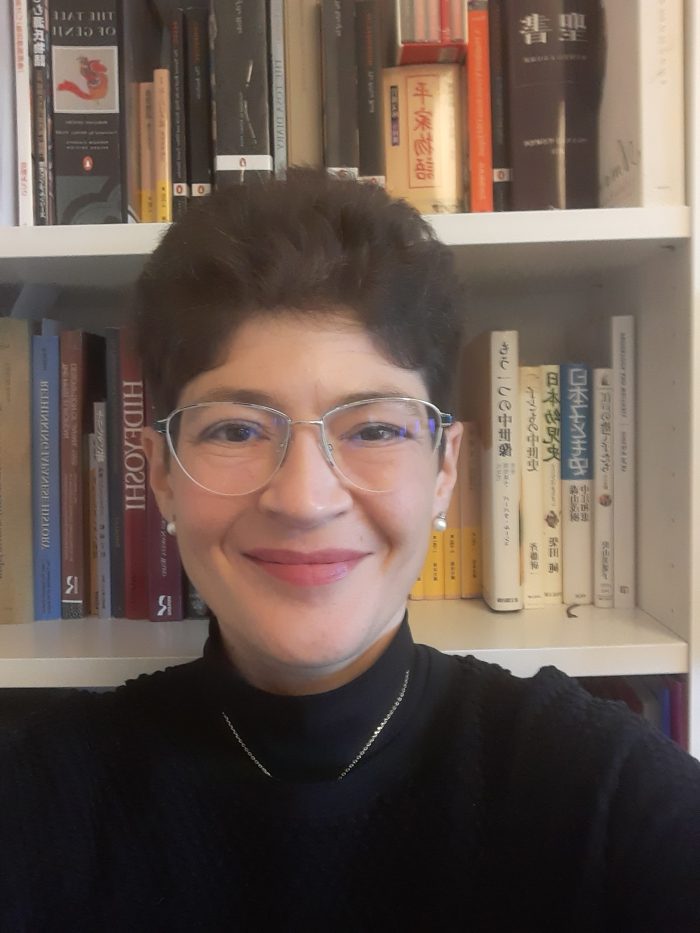 Dr Pia Maria Jolliffe FRHistS
Research Fellow, Member of the Las Casas Institute
Dr Pia Maria Jolliffe FRHistS holds a DPhil in International Development the University of Oxford, a DESS in Asian Studies from the University of Geneva and a Master's in Japanese Studies from the University of Vienna.
Her research focuses on:
Children, emotions, and the transition from 16th to 17th century Japan
Religion, translation and transnational relations between Japan and (Counter-)Reformation Europe
The 19th century colonization of Ezo/Hokkaido
Pia teaches early modern and transnational Japanese history. In 2022 she was elected a Fellow of the Royal Historical Society (FRHistS) and achieved Associate Fellowship of the Higher Education Academy (AFHEA). She is also a steering committee member for the History of Childhood Centre.
Publications
Books:  Religion, Translation, and Transnational Relations: Japan and (Counter-) Reformation Europe. Stuttgart: J.M. Metzler (co-editors Katja Triplett and Orii Yoshimi) (forthcoming);
2018 Southeast Asian Education in Modern History: Schools, Manipulation, and Contest. London: Routledge (co-editor Thomas Richard Bruce);
2018 Prisons and Forced Labour in Japan. The Colonization of Hokkaido, 1881-1894. London: Routledge;
2016 Learning, Migration and Intergenerational Relations. The Karen and the Gift of Education. London: Palgrave Macmillian;
2016 Gefängnisse und Zwangsarbeit auf der japanischen Nordinsel Hokkaido. Vienna: LIT Verlag.
 Articles, book chapters:
JAPANESE STUDIES
(forthcoming)  '"This Iaponian Palme-tree of Christian Fortitude" – Jesuit letters from Japan and the English (Counter-) Reformation', in Katja Triplett, Yoshimi Orii and Pia Jolliffe eds. Religion, Translation, and Transnational Relations: Japan and (Counter-) Reformation Europe. Stuttgart: J.M. Metzler;
2023 'Naughty, bold, and blessed: Sixteenth-century Japanese children's voices mediated in the writings of Luís Fróis' Journal of the History of Childhood and Youth, Vol. 16, no. 2, 211-228;
2023 'Potato Puppet Theater/Beating the Beauties: A Seventeenth-Century Japanese Picture Book for Children', with Keller Kimbrough, Journal of the History of Childhood and Youth, Vol. 16, no. 2, 197-210;
2023 book review:  'Monsters, Animals, and other Worlds. A Collection of Short Medieval Japanese Tales. Keller Kimbrough and Shirane Haruo, Columbia University Press, New York, 2018, pp. 443', in Japan Forum ;
2022 'Die Tensho-Mission: Beginn einer schwierigen transnationalen Beziehung.' In: Bernhard Scheid, Religion-in-Japan: Ein digitales Handbuch. Vienna: University of Vienna;
2021 'Japanese Woodblock Prints and the Brady Collection', Christ Church Library Newsletter, Volume 12, Issues 2-3, 2020-21, 15-18;
2021 'Two Examples of Catalogued Japanese Prints in the Brady Collection', with Kiyoko Hanaoka, Christ Church Library Newsletter, Volume 12, Issues 2-3, 2020-21, 18-19;
2021  'Jesuit translation practices in sixteenth-century Japan, Sanctos no gosagueo no uchi nuqigaqi and Luis de Granada', with Alessandro Bianchi, in Jieun Kiaer et al Missionary Translators: Translations of Christian Texts in East Asia. London: Routledge;
2020 'Forced Labour in Imperial Japan's First Colony: Hokkaido' The Asia-Pacific Journal. Japan Focus. Vol. 18, Issue 2, Number 6;
2020 'Sacred images made to be trampled on: kami fumi-e from Japan', with Mahli Knutson,  British Library Asian and African Studies Blog  (31 January 2020);
2019 'We are now learning the language like little children": Learning within the context of the early modern Jesuit mission to Japan' Annals of Dimitrie Cantemir Christian University Nr. 1/2019, 110-124;
2018 'Faith in Medicine. The Life of Nagai Takashi' The Catholic Medical Quarterly. Vol. 68/4, 12-13;
2018 'Wirtschaftliche Tätigkeiten und soziale Wahrnehmungen der Natur im Kontext der Kolonialisierung von Ezo/Hokkaido' (Economic activities and social perceptions of nature within the context of the colonization of Ezo/Hokkaido) Minikomi – Informationen des Akademischen Arbeitskreises Japan Nr 87, 45-52;
2005 'Blurring the boundaries: prisons and settler society in Hokkaido', International Institute of Asian Studies Newsletter 39, 8;
2003 'Translating Academic Research to the Public', with Brigitte Steger, Anthropology News 44/3, 22-23;
2003 'Über hikikomori sprechen. Unterschiedliche Darstellungsweisen im öffentlichen Diskurs' Minikomi – Informationen des akademischen Arbeitskreises Japan 66, 28-34;
2002 'Joko-san, tanoko und maika. Zur Wechselwirkung von Technologie und geschlechtlich segregiertem Arbeitsmarkt in Japan' Minikomi Informationen des akademischen Arbeitskreises Japan 65, 13-18;
2001 'One Team. One Scarf. One Neck? Strategischer Körpereinsatz bei der Tokyo Motor Show', with Sigrid Willibald, Minikomi – Informationen des akademischen Arbeitskreises Japan 62, 35-38.
INTERNATIONAL DEVELOPMENT
2020 'The Integration of Syrian Asylum Seekers in Austria in Light of Catholic Social Teaching', in Leonardo Schiocchet, Christine Nölle-Karimi and Monika Mokre (eds) Agency and Tutelage in Forced Migration, ROR-n Plattform 2(1), Vienna: ROR-n, Austrian Academy of Science,  196-200;
2019 'Ageing and Fertility: Legal and Ethical Perspectives', with William Jolliffe, in Andelka M Phillips, Thana C de Campos and Jonathan Herring (eds) Philosophical Foundations of Medical Law, Oxford: Oxford University Press, 264-274;
2018 'Honouring the elders: The common good among Karen communities – a multi-sited ethnography', with Shirley Worland, The Australian Journal of Anthropology 29/2, 158-170;
2018 'Child Migration to the UK. Hopes and Realities', with Samuel Burke, in Ben Ryan (ed) Fortress Britain? Ethical Approaches to Immigration Policy for a Post-Brexit Britain, London and Philadelphia: Jessica Kingsley Publishers, 134-153;
2017 'Thomas Linacre – Humanist, Scholar, Physician and Priest' Catholic Medical Quarterly 67/3, 17-18;
2017  'Participatory research methods with children and adolescents of the Karen people in the highlands of Chiang Mai – a research report' The Vienna Psychoanalyst  (22 March 2017);
2017 'Karen youth transitions at the Thai-Myanmar border' Journal of Youth Studies 20/10, 1313-1327;
2017 'Book Review- Researching the Lifecourse: Critical Reflections from the Social Sciences edited by Nancy Worth and Irene Hardill' Journal of Population Ageing 10/1, 101-104;
2016 'Intergenerational relations and rural development among the Karen in Northern Thailand' International Journal on Ageing in Developing Countries, 1 / 2, 143-157;
2016 'Night-time and refugees. Evidence from the Thai-Myanmar border' Journal of Refugee Studies 29/1, 1-18;
2016 'Integration of Syrian asylum seekers and refugees in Austria: the role of education and skills' NoRRAG, 149-150;
2016 'Myanmar's political transition and educational aspirations of refugees in Thailand' NoRRAG, 122-123;
2009 Conceptualising and Measuring Children's Time Use: A Technical Review for Young Lives, with Virginia Morrow and Martin Woodhead, Young Lives Technical Note 14, Oxford: Young Lives;
2008 Early Childhood Transitions Research: A Review of Concepts, Theory, and Practice, with Gina Crivello and Martin Woodhead, Working Papers in Early Childhood Development 48, The Netherlands: Bernard van Leer Foundation;
2008 'Sleeping as a Refuge? Embodied Vulnerability and Corporeal Security during Refugees' Sleep at the Thai-Burma Border', in Lodewijk Brunt and Brigitte Steger (eds) Worlds of Sleep, Berlin: Frank and Timme, 193- 210;
2007 'Into the jungle of bureaucracy: negotiating access to camps at the Thai-Burma border', Refugee Survey Quarterly, 26/3, 51-60;
2006 In the absence of the humanitarian gaze: refugee camps after dark, New Issues in Refugee Research, Policy Development and Evaluation Service, Geneva: UNHCR (Research Paper; 137).