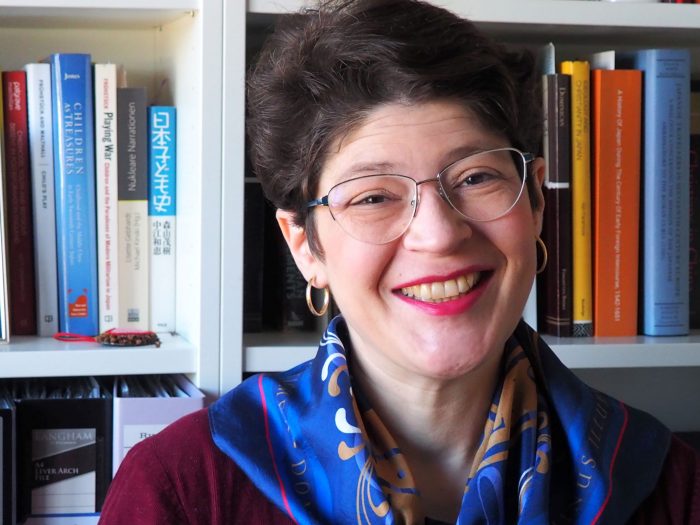 Dr Pia Maria Jolliffe
Fellow, Member, Las Casas Institute
Dr Pia Maria Jolliffe holds a DPhil in International Development the University of Oxford, a DESS in Asian Studies from the University of Geneva and a Master's in Japanese Studies from the University of Vienna. She was appointed a Research Fellow of Blackfriars Hall and member of the Las Casas Institute in February 2016.
Pia teaches lecture courses and tutorials in early modern Japanese history and modern Japanese history. She is generally interested in the history of Christianity in Japan. Her current book project focuses on childhood and the Catholic Mission in late 16th and early 17th century Japan.
Publications
Books
2018 Southeast Asian Education in Modern History: Schools, Manipulation, and Contest. London: Routledge (co-editor Thomas Richard Bruce)
2018 Prisons and Forced Labour in Japan. The Colonization of Hokkaido, 1881-1894. London: Routledge.
2016 Learning, Migration and Intergenerational Relations. The Karen and the Gift of Education. London: Palgrave Macmillian.
2016 Gefängnisse und Zwangsarbeit auf der japanischen Nordinsel Hokkaido. Vienna: LIT Verlag.
Academic articles
2019 'We are now learning the language like little children": Learning within the context of the early modern Jesuit mission to Japan' Annals of Dimitrie Cantemir Christian University Nr. 1/2019, 110-124.
2018 'Wirtschaftliche Tätigkeiten und soziale Wahrnehmungen der Natur im Kontext der Kolonialisierung von Ezo/Hokkaid?' (Economic activities and social perceptions of nature within the context of the colonization of Ezo/Hokkaido) Minikomi – Informationen des Akademischen Arbeitskreises Japan Nr 87, 45-52.
2018 "Honouring the elders: The common good among Karen communities – a multi-sited ethnography" The Australian Journal of Anthropology 29/2, 158-170 (co-author Shirley Worland)
2017 'Thomas Linacre – Humanist, Scholar, Physician and Priest' Catholic Medical Quarterly 67/3, 17-18.
2017 'Karen youth transitions at the Thai-Myanmar border' Journal of Youth Studies 20/10, 1313-1327.
2017 'Book Review- Researching the Lifecourse: Critical Reflections from the Social Sciences edited by Nancy Worth and Irene Hardill' Journal of Population Ageing 10/1, 101-104
2016 'Intergenerational relations and rural development among the Karen in Northern Thailand' International Journal on Ageing in Developing Countries, 1 / 2, 143-157
2016 'Night-time and refugees. Evidence from the Thai-Myanmar border' Journal of Refugee Studies 29/1, 1-18.
2007 'Into the jungle of bureaucracy: negotiating access to camps at the Thai-Burma border', Refugee Survey Quarterly, 26/3, 51-60.
2005 'Blurring the boundaries: prisons and settler society in Hokkaido', International Institute of Asian Studies Newsletter 39, 8.
2003 'Translating Academic Research to the Public', Anthropology News 44/3, 22-23. (co-author Brigitte Steger)
2003 'Über hikikomori sprechen. Unterschiedliche Darstellungsweisen im öffentlichen Diskurs' Minikomi – Informationen des akademischen Arbeitskreises Japan 66, 28-34.
2002 'Joko-san, tanoko und maika. Zur Wechselwirkung von Technologie und geschlechtlich segregiertem Arbeitsmarkt in Japan' Minikomi Informationen des akademischen Arbeitskreises Japan 65, 13-18.
2001 'One Team. One Scarf. One Neck? Strategischer Körpereinsatz bei der Tokyo Motor Show' Minikomi – Informationen des akademischen Arbeitskreises Japan 62, 35-38 (co-author Sigrid Willibald)
Book chapters
2019 'Ageing and Fertility: Legal and Ethical Perspectives', in Andelka M Phillips, Thana C de Campos and Jonathan Herring (eds) Philosophical Foundations of Medical Law, Oxfordd: Oxford University Press, 264-274 (co-author William Jolliffe)
2018 'Child Migration to the UK. Hopes and Realities', in Ben Ryan (ed) Fortress Britain? Ethical Approaches to Immigration Policy for a Post-Brexit Britain, London and Philadelphia: Jessica Kingsley Publishers, 134-153 (co-author Samuel Burke OP)
2008 'Sleeping as a Refuge? Embodied Vulnerability and Corporeal Security during Refugees' Sleep at the Thai-Burma Border', in Lodewijk Brunt and Brigitte Steger (eds) Worlds of Sleep, Berlin: Frank and Timme, 193- 210.
Academic blog posts
Working papers
2009 Conceptualising and Measuring Children's Time Use: A Technical Review for Young Lives, Young Lives Technical Note 14, Oxford: Young Lives. (with Virginia Morrow and Martin Woodhead)
2008 Early Childhood Transitions Research: A Review of Concepts, Theory, and Practice, Working Papers in Early Childhood Development 48, The Netherlands: Bernard van Leer Foundation. (with Gina Crivello and Martin Woodhead)
2006 In the absence of the humanitarian gaze: refugee camps after dark, New Issues in Refugee Research, Policy Development and Evaluation Service, Geneva: UNHCR (Research Paper; 137)