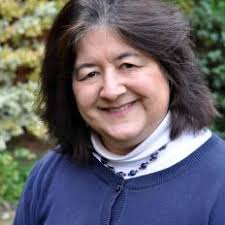 Dr Santha Bhattacharji
Fellow
Dr Santha Bhattacharji took a degree in English at Somerville College, Oxford and spent six years living in an Anglican community of nuns before taking a PhD at  Bristol.   She is a member of the University's English Faculty, and specialises in Old and Middle English, as well as lecturing on aspects of Christian spirituality.
Dr Bhattacharji is a Senior Tutor at St. Benet's Hall, and a Fellow by Special Election at Blackfriars Hall. She is also the president of the Churches' Fellowship for Psychical and Spiritual Studies, an ecumenical organisation for the study of spirituality as it is experienced today.
Select Publications: 'Pearl and the liturgical Common of Virgins', Medium Aevum 64 (1995), 37-50.
God is an Earthquake: the Spirituality of Margery Kempe (Darton, Longman and Todd, 1997).
'An approach to Christian aspects of "The Wanderer" and "The Seafarer" ', in Christian Tradition in Anglo-Saxon England, ed. P. Cavill (Boydell and Brewer, 2004).
'Some difficulties in understanding medieval contemplation and mystical experience', in Teaching the Medieval English Mystics, ed. R. Ellis and D. Dyas (Boydell and Brewer, 2005)
'Changing Metaphors in "Guthlac A" and "Guthlac B" ' in Anchorites, Wombs and Tombs: Intersections of Gender and Enclosure in the Middle Ages', ed. E. Herbert McAvoy and M. Hughes-Edwards (University of Wales Press, 2005).
'Tears and Screaming: Weeping in the Spirituality of Margery Kempe' in Holy Tears: Weeping in the Religious Imagination, ed. K. Patton and J. Hawley (Princeton University Press, 2005).
'Julian of Norwich' in The Blackwell Companion to Medieval Literature and Culture, ed. Peter Brown (Blackwell, 2006).
Prayer and Thought in Monastic Tradition: Essays in Honour of Benedicta Ward SLG, ed Santha Bhattacharji , Rowan Williams and Dominic Mattos (Bloomsbury, 2014)