Blackfriars To Expand Into New Annexe Building
1st July 2019
Pressure of space on the main Blackfriars site in Oxford city centre will be relieved from Autumn 2019 through the creation of new teaching, meeting and office space plus student accommodation in the former RBS building at the north end of St Giles, Oxford.
Update 15 October 2019: First students have moved into the new accommodation.
Pressure on Space
In medieval times, Blackfriars occupied a large site, able to accommodate 100 men. Today's priory, established in 1921, is far smaller, and is home for up to 30 friars. These are joined each day by an academic community of students and teachers, by members of staff, and by worshippers and groups that meet here.
In recent years, efforts have been made to ensure these different communities can live alongside each other within the limited space. However, as Blackfriars has grown, pressure on space has been felt all the more, especially by friars who live here and need space of their own for prayer, study and relaxation.
Moving Beyond a Stop-Gap Solution
A partial solution was found in 2005, by renting a building in Beaumont Street. This allowed offices and teaching and research space to be established there. However, Blackfriars has outgrown this building and, with the cost of rent rising, now needs to move beyond this temporary solution.
An Exciting Opportunity for Blackfriars
A short walk from the front door of Blackfriars is a recently vacant four-storey building which promises a solution to Blackfriars' space needs.
The charity that runs Blackfriars purchased this building in 2003 with an eye to the future. Until February 2019, the building was occupied for many years by a bank. Their decision to leave opened up an exciting opportunity for Blackfriars to acquire extra space.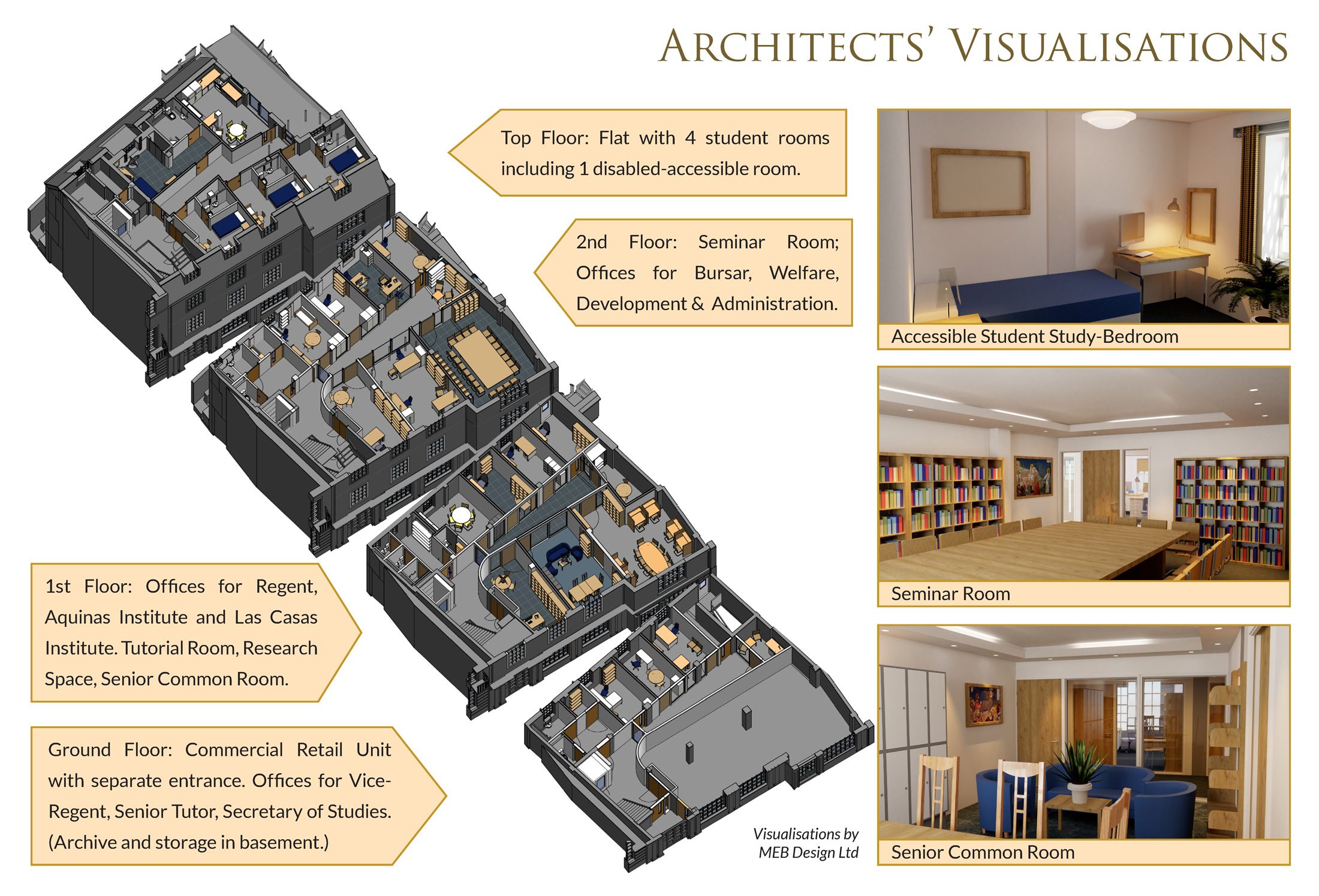 A Building with Great Potential
The building has a Grade II listed frontage dating from the 19th century, however the sizeable interior has been reconstructed to give large open floors easily able to be divided into rooms and offices.
The location is opposite St Giles churchyard and near the entrance to Little Clarendon Street – within easy reach of Blackfriars, of the city centre, and of the colleges and faculties of the University, including the planned new Humanities Centre in Jericho.
Benefits
The Prior of Blackfriars, Fr Robert Gay OP, is thrilled at the opportunity that this presents:
"We have been struggling with the question of space for several years now, and we even contemplated building over part of our beautiful garden. But this is a much better solution, albeit one that costs a lot. We hope that some kind people may be moved to help us bear the expense of converting the building. It's a once-in-a-lifetime opportunity that we simply have to grasp."
Benefits of the new annexe building will be:
More dedicated teaching and meeting rooms will be available, both here and in in the Priory.
Some space in the Priory will be freed up for use by the community of friars.
A new shared area for researchers associated with our two research centres.
A new Senior Common Room for our fellows and teaching staff.
Close proximity of Province and Hall/Studium offices will make collaboration and planning much easier.
Four student bedrooms in the top floor, with lift access, will allow more Blackfriars students to 'live in'.
Considerable Financial Challenges
Since this building became available, Blackfriars has had to move fast to prepare it for use from autumn 2019. There will, however, be considerable immediate and ongoing financial burdens that will have to be borne by our charity:
The high cost (at least £1m) of a full refit and reconfiguration of the building, including a new elevator;
An income gap of c. £62,000 in the annual budget, arising from the loss of rental income and a reduction in the charity's annual investment income (since a large amount of invested capital is having to be liquidated to pay for the refit costs).
Help is Urgently Needed
We would welcome any financial contributions towards this essential project for the future of Blackfriars, a key element within our 800th Anniversary Campaign, Building the Next Century of Mission.