Fr David Sanders, OP, RIP
30th March 2020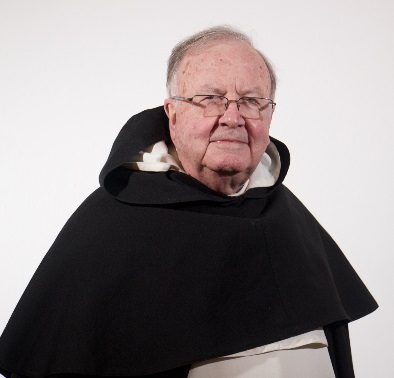 Of your charity, please pray for the soul of our brother, David Sanders, who departed this life on Monday 30 March in the eighty-first year of his age, the fifty-third year of his Religious Profession, and the forty-eighth year of his priesthood.
On the morning of 30 March, learning that his condition was deteriorating, the community were able to pray the Holy Rosary and sing the Salve Regina for him in the priory church.
Fr David was, most recently, the coordinator of St Martin's Mission, raising funds for our friars in the Caribbean, but had held many different posts within the province over his long years of service including Prior, Senior Tutor in the Hall and Studium, and Master of Students. Well known and loved by our congregations, both for his pastoral care and his love of the Sacred Scriptures, Fr David will be sadly missed by many.
Please pray for the repose of his soul, for the consolation of his family, for the Dominican community here in Oxford and the wider province, and for the many people in Oxford, the UK, and the Caribbean who mourn his death.
Rest eternal grant to him, O Lord, and let perpetual light shine upon him. May his soul, and the souls of all the faithful departed, rest in peace. Amen.
Remembering Fr David
On the 3 April, the community celebrated a Requiem Mass for Fr David at which Timothy preached. You can listen to the homily on the Godzdogz Youtube channel.
To get a glimpse of Fr David, here's something from the archive of Godzdogz, the student brothers' blog. Fr Matthew Jarvis, OP interviewed Fr David, his then Student Master, on his experience of life in the Order. Read more.
Many will know Fr David from his most recent assignation to Oxford as Student Master and Lector in Scripture, but Fr Aidan Nichols, OP remembers with fondness his time as prior of Blackfriars, Cambridge. Read more.
Details of the Requiem Mass
A Requiem Mass will be offered at 7:30 am on Friday, 3 April, with preaching by Fr Timothy Radcliffe OP. This will be broadcast on YouTube and also be available there for later viewing.