News from the SCR – Michaelmas 2016
5th December 2016
Among the Regent's numerous academic activities during Michaelmas Term was his attendance at the Sapientia Day: The Heart of Revelation, A Dominican Perspective, which took place in Budapest and was part of the Order's 800th Jubilee celebrations.
Fr Simon delivered a paper entitled: 'How could the earthly Jesus have taught divine truth?' To view more images, follow this link – sadly the commentary is in Hungarian!
In other news, Fr Simon's book Did the Saviour See the Father? was recently chosen as Christopher Howse's book of the year in The Tablet (paywall)!
Dr Michael Ward, Senior Research Fellow at Blackfriars Hall, has co-edited (with Peter S. Williams) a book entitled C.S. Lewis at Poets' Corner (Wip & Stock, 2016).
The book in summary:
On the fiftieth anniversary of his death, C.S. Lewis was memorialized in Poets' Corner, Westminster Abbey. Oxford and Cambridge Universities, where Lewis taught, also held commemorations. This volume gathers together addresses from those events.
Rowan Williams and Alister McGrath assess Lewis's legacy in theology. Malcolm Guite explores his integration of reason and imagination. William Lane Craig takes a philosophical perspective. Lewis's successor as Professor of Medieval and Renaissance English, Helen Cooper, considers him as a critic.
Alongside these formal, academic treatments, the collection includes more personal and conversational pieces. Lewis's biographer, Walter Hooper, recalls their first meeting. A panel of experts including Michael Ward and Judith Wolfe evaluates his legacy in Christian apologetics. Royal Wedding composer Paul Mealor reflects on how he set to music Lewis's poem, 'Love's as warm as tears'.
Containing theology, literary criticism, poetry, memoir and much else besides, this volume reflects the breadth of Lewis's interests and the huge variety of his own output. It is a diverse and colourful commemoration of a figure known to millions for his work as 'Everyman's theologian'.
Mr Stephen Priest, Senior Research Fellow at Blackfriars Hall, and a member of the Faculty of Philosophy at the University of Oxford, has been keeping busy. Fellowships and lectures include:
Guest Professor, Zagreb Dominicans and the University of Zagreb, Croatia (2016)
Mercator Fellow, Germany (2016-2017)
Visiting Professor, Ruhr-Universitaet, Bochum, Germany (2016-17)
Invited lecture 'Is Physics Fundamental?' Heythrop College, University of London (2016)
Invited lecturer 'Who am I?' Humane Philosophy Society, Universities of Oxford and Warsaw (2016)
Hosted the Woodleigh Sessions of the Humane Philosophy Society (2016)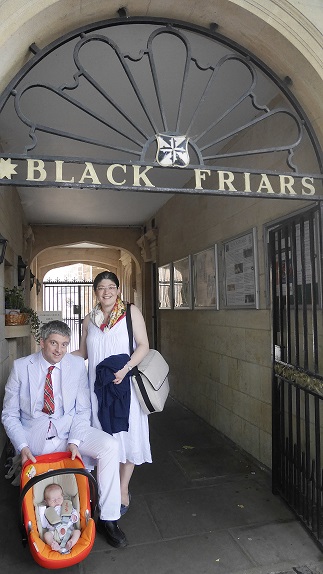 You'll all be pleased to hear that Dr Pia Jolliffe gave birth to Joseph William Charles, a healthy baby boy, on 5 August 2016. He was baptised on 14th August 2016 at the Chapel of the Holy Spirit, Blackfriars, Oxford.