Accommodation
St John Street
Blackfriars Hall provides a small number of high-quality, good-size rooms for students, located in two adjacent houses in St John Street, a two-minute walk away from the Blackfriars site. Both properties have a garden in which students can relax.
The accommodation is ideally located in a well-lit street right in the heart of the city, close to the main sights and attractions, and convenient for University facilities, but slightly away from the main bustle and city noise: perfect for balancing the need for study and recreation.
The houses are in easy walking distance of both bus and rail stations.
33 St Giles Annexe
In 2019-20, the Hall opened four new en-suite student bedrooms in a shared flat on the 3rd floor of the Hall's Annexe building at 33 St Giles. While the accommodation is ideally located next to the shops and amenities of Little Clarendon Street as well as the Radcliffe Observatory Quarter, the rooms also excellent sound-proofing insulations thus keeping away the noise of St Giles to support quiet study.
Arrangements include an accessible lift, and an accessible en-suite in one bedroom. Further adaptations can be undertaken within the accommodation to support wheelchair users.
Accessibility
Detailed access information about Blackfriars' accommodation and other facilities can be found in our entry on the Oxford Colleges Access Guide.
Other Accommodation Arrangements
For 2023-24 academic year, the Hall has secured five en-suite for Blackfriars students in Jericho (North Oxford, five en-suite rooms).  Please note that prices and terms and conditions for these rooms will be different than for the Hall's other managed accommodation.
Please contact the Hall Bursary (Anneli  Chambliss Howes and Pauline Lloyd) who will be pleased to provide further information.
Blackfriars Basic Board and Lodging Information (2023/24)
Daily / Weekly average room rate: £29.78 / £208.46
Length of Graduate contract in days: 268
Meals can be taken, by arrangement, with another college, which is close by.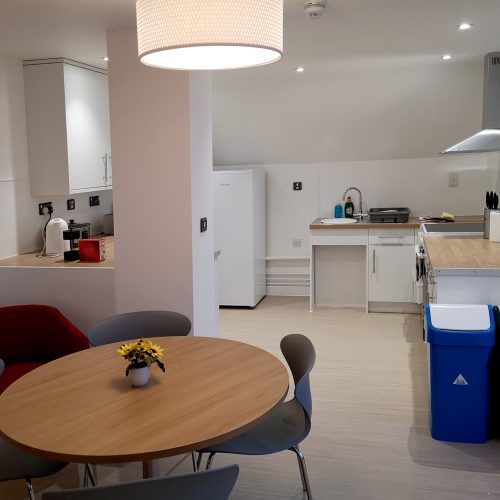 33 St Giles – Kitchen / Dining