The Atonement and the Problem of Shame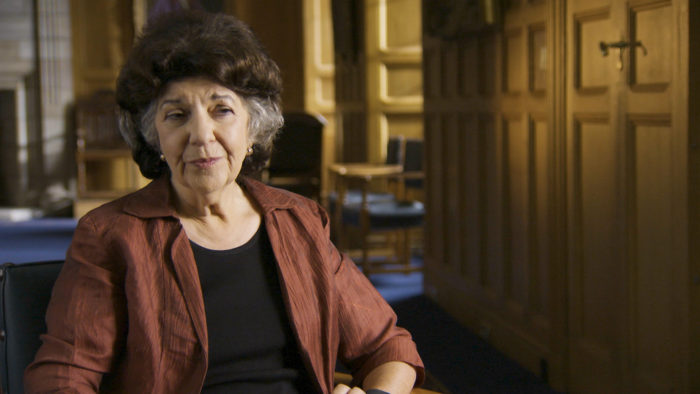 Author: Prof Eleonore Stump
Professor Eleonore Stump, a Patron of the Institute, delivered this special lecture on 9 October 2017.
Her title was "The Atonement and the Problem of Shame". As an exercise in philosophical theology, Prof Stump enquired whether the Christian doctrine of the Atonement could constitute a solution to the problem of shame in human life. The Atonement, all agree, deals with guilt. But shame is distinct from guilt, if in subtle ways. A guilty person fears that another will not desire his/her good, but rather impose punishment. One who is shamed fears that others will not desire union with him/her. Shame can be due to (a) one's own wrongdoing, even after it has been repented of; (b) to others' wrongdoing; (c) to a defect of nature; (d) to the group to which one belongs. Honour is the natural remedy for shame – and if an honour that outweighs the shame also has some intrinsic relationship to the shame, it will defeat the shame.
Chalcedonian Christology holds that God has taken human nature to himself, and in that nature God has suffered. In his crucifixion, God incarnate joined the shame of humanity. Further, for many theologians, the Incarnation would not have happened if there had not been sin and shame to defeat. Hence the Atonement defeats our shame, in sense (d), the shame that attaches to all human beings as members of a fallen race. If, as is widely held, Christ in his Passion opened himself to the psyches of all other human beings, and in a sense bore their sins in himself, then he did his part towards a personal union with each human being. If a human being opens him/herself to Christ, the union that results also seems to defeat personal shame, shame in senses (a), (b) and (c).
However, further work is called for to show how this union defeats the shame generated by relative standing, i.e. shame that attaches to personal sins worse than those of most people.
With her kind permission, the text of Prof Stump's lecture may be read here.
For Prof Stump's web-site, visit https://sites.google.com/site/stumpep/