New Academic Year
1st October 2020
Arrivals and Farewells
As well as the new arrivals for this coming academic year, a number of the brethren have left the community for other assignations. Fr John Farrell, OP has been reassigned to Leicester having completed a four year term as Master of Students. Fr Richard Ounsworth, OP having ended his work as Provincial Bursar has also left for Leicester. He will return during term to teach Scripture in the Studium once that is possible. At the beginning of September, we said farewell to Fr Simon Gaine, OP who has left for the Angelicum to take up his new position as the Servais Pinckaers Professor of Theological Anthropology and Ethics. Fr Bob Ombres, OP follows him today for his normal period of teaching canon law at the Angelicum.
We've welcomed our new Regent, Fr John O'Connor, OP, and our new Vice Regent, Fr Bruno Clifton, OP, as well as a new Master of Students, Fr Oliver Keenan, OP.
Students have arrived for their various periods of quarantine and self-isolation before the beginning of induction events in 0th Week.
Changes to Mass booking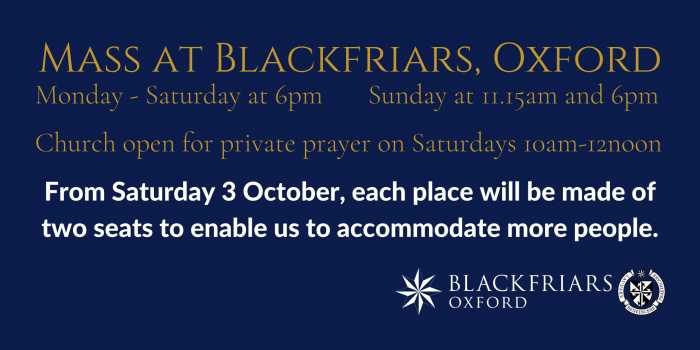 To make it easier for couples and families to attend Mass, we've double the chairs up to offer 21 places made up of two chairs. Families should use as many places as necessary to accommodate their families. Individual bookings can still be made, one chair will simply be left vacant. The booking system can be found here.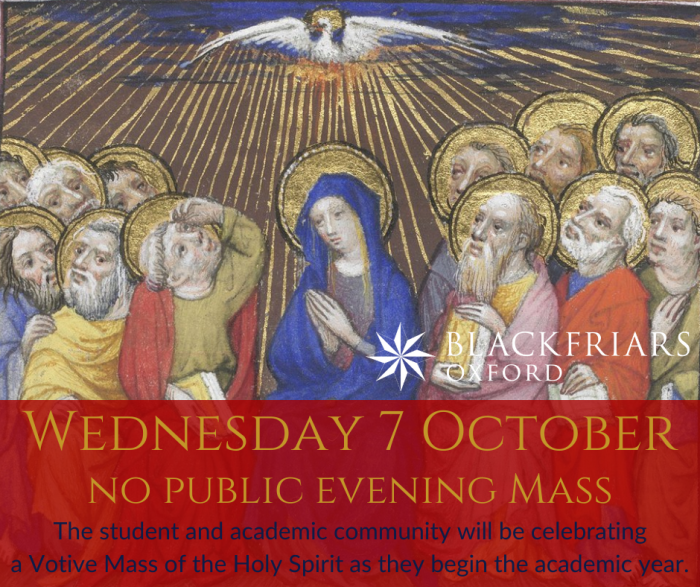 On Wednesday 7 October, there will be no evening public Mass because the new academic year will be inaugurated with a Votive Mass of the Holy Spirit open to students of the Hall and Studium.