New Annexe for Blackfriars

Converting this nearby building on St Giles has created more space from November 2019 for the life and work of Blackfriars.
Immediate need: up to £1 million
Total cost of project: £1.5 million
Competing Demands for Space
On a compact site in the centre of Oxford, Blackfriars is home to up to thirty friars – joined each day by an academic community of students and teachers, by members of staff, and of course by worshippers and groups that meet here.
As Blackfriars has grown, pressure on space has been felt all the more, especially by the friars who live here.
An Exciting Opportunity for Blackfriars
A short walk north from the front door of Blackfriars [map], is a four-storey building owned by us which now offers the solution to Blackfriars' space needs. Until early 2019, it was occupied by a bank.
From summer 2019, building works were undertaken to convert this into a multi-purpose annexe for Blackfriars: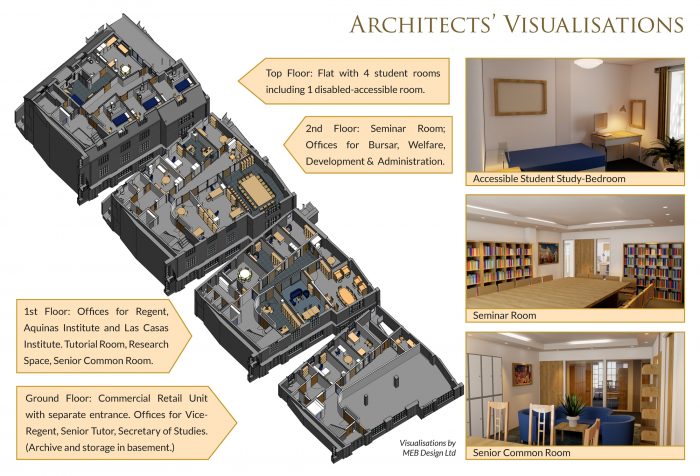 This building now offers research space, administrative offices, rooms for meeting and teaching, and student accommodation.
We are pleased to offer tours of the new building to alumni and friends of Blackfriars: just contact the Development Director
How the New Annexe Will Help
The new annexe is not only helping the students and researchers at Blackfriars, but is having a positive effect on the life of our whole community
Four student bedrooms in the top floor, with lift access, are allowing more ­Blackfriars students to 'live in'
An accessible bedroom is allowing Blackfriars to accommodate a disabled student for the first time
More dedicated teaching and meeting rooms plus a new shared area for researchers associated with our two research centres, the Las Casas Institute and Aquinas Institute
Space in the Priory is being freed up for teaching and for use by the community of friars
A new Senior Common Room in the new building is providing an improved social space for our hard-working fellows and teaching staff
The new annexe will be conveniently situated between Blackfriars and the future Schwartzman Centre for the Humanities being developed by the University.
Close proximity of the Province's and Blackfriars Hall / Studium's offices is making collaboration and planning much easier
Your Help is Urgently Needed
Since this building became available, we have had to move fast to prepare it for our use.
We expect there will be a final cost to our organisation of £1m – £1.5m. This will be difficult for us to bear, given the other financial pressures facing our Province at this time.
We would welcome any financial contributions you feel called to make to this essential project for the future of Blackfriars. See below for ways to help.
Donate Now Online         other ways to give
Thinking of a Major Benefaction?
If you are able to make a major benefaction of £100,000 or more, we would be delighted to discuss opportunities for proposing names for the various rooms created in the new building.
If you are able to give more than half the costs of the works (i.e. £750,000 or more), then this would provide an exclusive opportunity for naming the building, and allow you to leave your mark on central Oxford. Contact the Development Director for more information.