Securing the Best Teachers for our Future Priests

'Lectorships' ensure a living wage for teachers in Blackfriars Studium who train future priests.
Thanks to a major benefaction, 10 lectorships have already been funded for five years to 2026
Lectorships are divided between lay lectors and friars
Longer-term Need:  funding for lectors beyond 2026
Donate Now Online         other ways to give
In this part of Blackfriars' 800th Anniversary Campaign, we are seeking better funding for the training of future priests, a development which will help support the Dominicans and others who teach here.
The Only Study Centre for Religious Orders
Since the closure in recent years of Heythrop College and the Franciscan Study Centre, Blackfriars Studium is the only specialist formation centre for religious orders in England, Wales and Scotland.
It acts like a fourth Catholic seminary, providing an excellent intellectual formation for the next generation of priests:
Dominican friars from UK and overseas
Conventual Franciscans
Capuchin Franciscans
Benedictines
Oratorians
and others.
Excellent Formation for the Next Generation of Priests

Over six years, students in Blackfriars Studium receive a high-quality intellectual formation to prepare them for ordained ministry and preaching.
­Blackfriars' course is unique in the world:
A Catholic curriculum united with the traditional teaching methods of Oxford*, using the famous one-to-one 'Oxford tutorial'

.

Lectures and classes from experts
World-class theology library with over 35,000 volumes.
The quality of this education is shown by
All Dominican students in the last five years have graduated at the highest level with summa cum laude

.

Dominicans from other provinces are sent here for studies.
* Note: Blackfriars Studium (unlike Blackfriars Hall) is not affiliated to Oxford University; Studium students study for the STB, a pontifical ministerial qualification validated by the 'Angelicum' University in Rome.
An Urgent Challenge: Paying a Living Wage to our Teaching Staff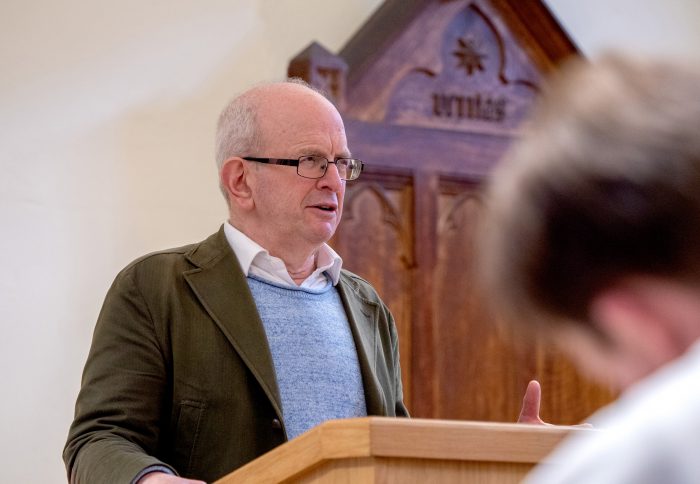 Future Priests Need the Best Teachers
The breadth and depth of formation needed by clerical students is considerable, and requires teachers with rigorous academic expertise in areas ranging from scripture to moral theology, from philosophy to canon law. Future priests will only be able to respond to the challenges that await them in their pastoral ministry and preaching by learning from such wise and experienced teachers.
Tight Budget = Limited Pay
However, with a small  student body, and no endowment, Blackfriars Studium has very limited funds with which to pay its teachers: we can only pay an hourly rate just for the hours spent teaching – nothing for the considerable preparation time involved, and nothing for the academic research needed to keep up with the latest scholarship.
Blackfriars is not alone in this – all UK seminaries are facing similar challenges.
We simply must find ways to ensure that our future priests get the teachers that they need.
Financial pressures on the Friars
Much of the Studium teaching is undertaken by Dominican friars attached to our priories in Oxford, Cambridge, London or Leicester.
Each of these priories relies on income earned by certain friars who undertake paid work outside of the Priory's core apostolates, e.g., paid teaching or chaplaincy work.
In many cases, these friars are near or past retirement age, therefore this income is at risk and needs to be replaced.
Across the Province, this amounts to £200,000 a year, with half of it (up to £100,000) associated with Oxford (17% of the Priory's income).
If we can secure better pay for the friars teaching in the Studium, this will go some way towards replacing the at-risk income and so removing this considerable threat.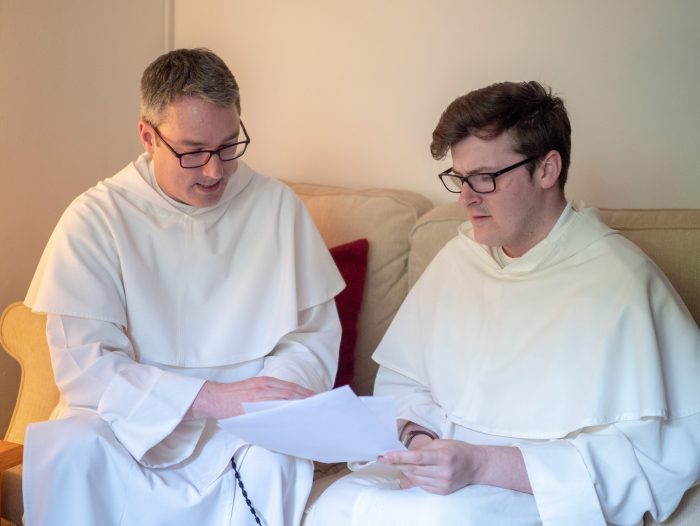 Case Studies: Two Studium Teachers
Fr Oliver Keenan OP

Prof. Timothy Kelly

Blackfriars Studium Workload

Researches and delivers one new weekly lecture series each term.
Up to 8 one-to-one tutorials each week.
Exam invigilation and marking.
Teaching across 11 areas of theology.

One set of weekly lectures in Hilary Term (3–4 days' preparation for each lecture).
Up to 50 one-to-one tutorials over 2 terms (2–3 hours' preparation for each).
Teaching across 9 areas of theology.

Remuneration from Studium

Just £3,600 a year.
Time commitment: 3 days a week.

Under £2,000 a year.
Time commitment: 3.5 days a week during term, 2 out of 3 terms.

Other Commitments

London Priory Bursar and Parish Priest.
Associate Lecturer, Maryvale Institute.
Chaplain, Imperial College, London.
Translation Fellow, Center for Barth Studies at Princeton Theological Seminary.
Trustee, Eckhart Society.

Director of Undergraduate Liberal Arts and Master's Theology degree programs at the International Theological Institute in Trumau, Austria.
Husband and father of five.

Other Income

£8,500 (Imperial College + Princeton).

Mid-range professorial salary (from I.T.I.).
Our Plan: Fund Teaching Posts that Provide an Annual Stipend
A Living Wage for the Studium Teachers
Our objective is to set up a number of Lectorships – funded teaching posts that each pay a minimum annual stipend of £25,000.
These will
guarantee the holder a basic living wage for their teaching duties
allow them to focus on being academics at Blackfriars, rather than needing to seek out supplementary sources of income
give them more freedom to engage in research – and so support the quality of their teaching
secure the best formation for the next generation of priests.
With the friars receiving an increasing number of calls for assistance with teaching from Catholic seminaries and colleges in Britain and overseas, we also hope that the provision of lectorships will enable us to respond more readily to such requests.
We Need Help to Reach Our Goals
Our ambitious aims are:
Minimum of 5 Lectorships established for 10 years  [£1.25m]
Stretch target of 10 Lectorships established for 10 years  [2.5m]
The lectorships will be introduced as funding becomes available.
In the longer term,
Creating endowments for 10 posts  [£8.5m]
Funding will be sought from among the supporters of the Dominicans and more widely from grant-makers and philanthropists who are keen to secure the best formation for our priests and want to support Catholic theology in the UK.
Could you Help?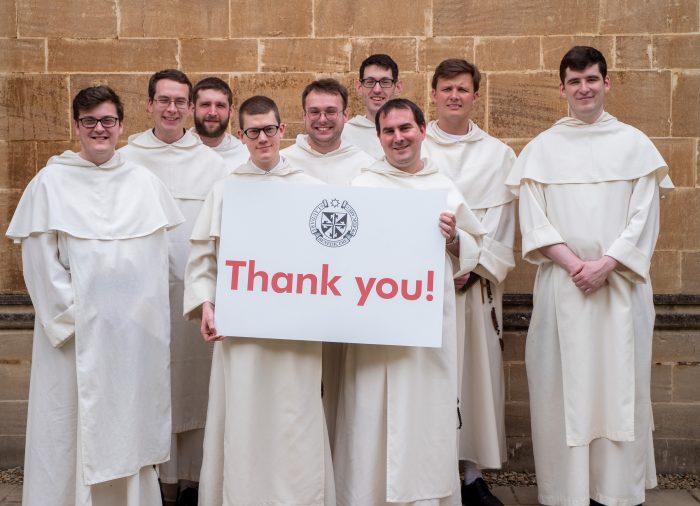 To achieve our ambitious goals we need gifts of all sizes.
Whether you are able to give £100, £5000, or £250,000, we need your contribution today.
See below for ways to help.
Thinking of a Major Benefaction?
History shows that the friars have always prayed for and memorialised the generous support given by benefactors. Today no less, the friars wish to mark this generosity.
Are you able now – or later through a legacy in your Will – to:
Fund a Lectorship for one or more years (by giving in multiples of £25,000)?
Establish a Lectorship for ten years (£250,000)?
Endow a Lectorship (£850,000)?
We will recognise such generosity with:
An invitation to propose a name for the Lectorship.
An annual dinner with the post-holders of the Lectorships, and other donors.
Invitations to 2021 Jubilee events and other special gatherings.
Please contact the Development Director to discuss this further.
Donate Now Online         other ways to give