Alumni Dinner 2018 – Booking is open now!
15th September 2018: 2:30 pm

-

10:30 pm

Former students at Blackfriars Hall, Oxford, or those who studied in the Dominican Studium, are warmly invited to join us for our third annual alumni dinner. Spouses, relatives and friends are also very welcome to attend with you.

You will be treated to a three-course meal with wine and excellent company in our beautiful refectory – and this year we have a very special guest speaker:
Guest Speaker: Theologian of the Pontifical Household, Fr Wojciech Giertych OP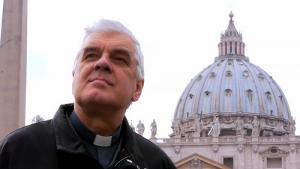 The 'Master of the Sacred Palace', to give him his traditional title, is the pope's personal theologian, and this role has always been held by a Dominican Friar.
Born in London, Fr Wojciech is is a member of the Polish Province. He teaches moral theology at the Angelicum, the Dominicans' University in Rome, to which Blackfriars' Studium is affiliated. Fr Wojciech has been the theological advisor to both Pope Benedict and Pope Francis. He is also a member of the Pontifical Committee for International Eucharistic Congresses and as a consultant to the Congregation for the Doctrine of the Faith, the International Theological Commission, and the Congregation for the Causes of Saints.
Dress code: dinner jacket or equivalent.

Please note that we have to charge for this meal to cover our costs (£32.50 including VAT and card processing fees); this includes all wine and other drinks.
Alumni Weekend Special Lecture
If you are free in the afternoon, you would be welcome to join us for…
Fr Wojciech Giertych OP speaking on
"The Humility of Faith and the Dignity of Reason"
This lecture is open to all Oxford University alumni through the Alumni Weekend.
Blackfriars alumni and guests get to attend for free!
(just add it for free to your EventBrite booking; note that, if you book through the University, it will cost £10).
This lecture is part of the programme for 'Meeting Minds', the Oxford University Alumni Weekend. This is an increasingly popular event and features a mix of stimulating talks, opportunities for socialising, and the chance to visit interesting corners of Oxford colleges. Booking for Meeting Minds will open in due course.
---
Accommodation
If you need to book accommodation, we recommend you use the University Rooms website.
Questions?
If you have any questions, please email Richard Brown, Development Director, or telephone +44 (0)1865 610 208.